Croydon's Mickel Miller, Wallington's Liam Grant and Daniel Barna teamed up at the weekend to secure the Divisional Winners title in the Junior British League played at Tipton Sports Academy in the West Midlands.
The Division 2 title was in doubt right up to the last fixture in which Crusaders met the undefeated Rotherham Scorpions. On Saturday Crusaders won three matches against Halifax, Draycott East Midlands and Woodfield (Wolverhapton) to lead the division.
With Rotherham unexpectedly dropping a point against both Woodfield and Draycott, recording 3-3 draws, the Crusaders boys appeared to have things wrapped up. Then the unthinkable happened on Sunday morning as Crusaders lost 2-4 to bottom placed Deutsche Bank Guernsey to give them their only win of the season. Mickel Miller suffered his only defeat of the weekend to Lawrence Stacey 13-15, 11-9, 10-12, 11-8, 9-11 in his longest set of the campaign. The net effect was to leave Rotherham and Crusaders level on points with everything to play for in the final fixture.
Crusaders pulled themselves together and from the match score standing at 1-1 with Rotherham they never looked back, rattling off the next 4 for a scintillating 5-1 victory. England No 26 junior David Thompson again lost to Daniel Barna, who is now ranked 30 in the country, for a 3-1 lead.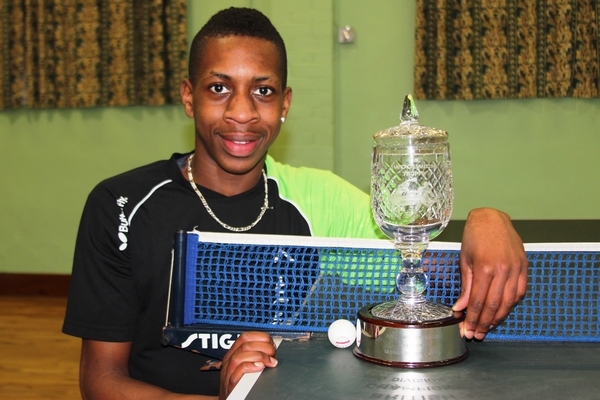 Mickel Miller was awarded player of the match for the 4th time.
Home Player

Away Player

Scores

Result

13-11

12-14

11-3

11-9

1-0

11-7

7-11

8-11

5-11

1-1

11-9

11-7

11-3

2-1

6-11

15-13

2-11

11-9

11-5

3-1

11-6

11-8

7-11

5-11

11-9

4-1

11-7

11-3

11-9

5-1
Division 2 Junior British League

Position

Team

Played

W

D

L

SF

SA

Points

1

10

8

1

1

40

20

17

2

10

6

3

1

40

20

15

3

10

2

4

4

27

33

8

4

10

2

4

4

26

34

8

5

10

2

2

6

24

36

6

6

10

1

4

5

23

37

6