Crusaders' Liam Grant and Isabelle Joubeily were part of the triumphant team at the recently held County Championships in the Cadet Premier Division. Having gained promotion only last season, the Surrey Cadets' main ambition was to stay in the Premier. Other team members included Sasha Gillen and Juliette Moussarie (Ashford TTC) and Diogo Freitas (Graham Spicer TTC). Sasha had journeyed from France to join our squad of young stars.
In their opening match Surrey took on the title holders Lancashire and managed a 5-5 draw. A very strong Yorkshire team were next in line who squeezed past our team 6-4 to eventually take the title by a narrow margin. Sasha was unfortunate to lose to England No 9 James Hobson 8-11, 11-8, 11-13, 11-13 and Liam Grant was narrowly defeated by England No 7 Harry Dai 11-8, 10-12, 10-12, 9-11. Isabelle battled well against the Engalnd No 3 Kate Nixon but lost out 11-5, 9-11, 12-12, 5-11. Next time guys!
Surrey did well to beat Sussex 6-4, Middlesex 7-3, Warwickshire 8-2, and Cleveland 10-0. In their final match Surrey forced Lincolnshire into relegation with a 7-3 victory. Liam Grant was outstanding in this match as he beat Nathan Butler 13-11 in the 5th after trailing 2-7. Following this he found himself 2 games to 1 down against England No 10 Matthew Leete only to win 11-8, 5-11, 6-11, 11-4, 11-4.
Isabelle finished the day with 11/14 (78.6%) having only lost to players ranked Nos 1, 2 and 3 in England. Surrey finished as highly respectable runners-up which has not been achieved by the county for some years.
Congratulations to Isabelle who found she had risen to No 5 in England – on her 14th birthday. Her 11 wins from the weekend will certainly help to consolidate her position.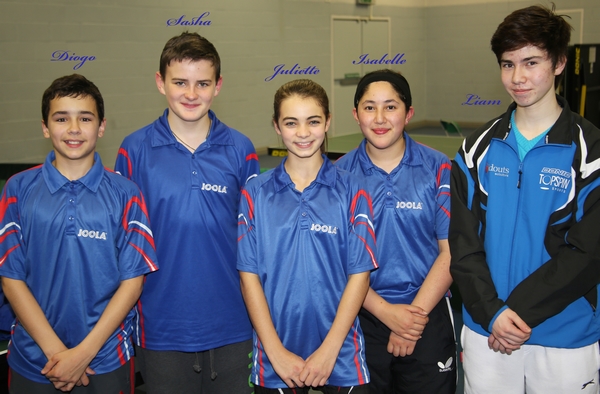 Photograph Courtesy of Michael Loveder.